Conditioning Camp
---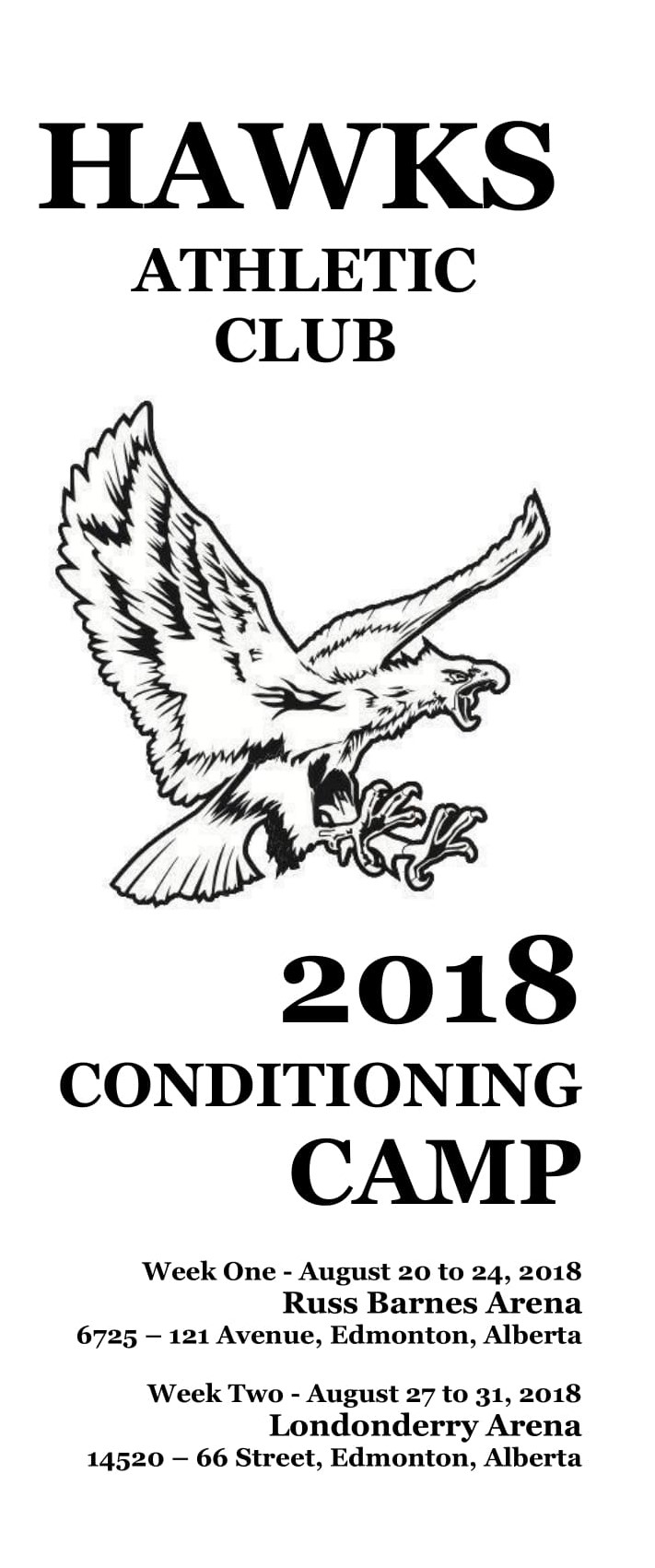 The Hawks Athletic Club is very proud to announce that this years' Conditioning Camp will run by Corey Chorneyko of the NAIT Ooks, and will be held the last two weeks of August this year. The goal of the camp is to provide hockey players, from Novice to Peewee, the opportunity to enhance their conditioning, puck handling and skating skills in preparation for the hockey season.
These players will be prepared to perform at a higher level during the fall evaluation and team selection processes. As well, they will be able to recover quicker after the intense physical exertion associated with the game of hockey and will be less prone to injury.
Week One
Week one sessions place an emphasis on aerobic conditioning, which will be accomplished through a variety of high intensity flow drills involving continuous skating and exertion.
Week Two
Week two sessions place an emphasis on anaerobic conditioning, which will be accomplished through a variety of high intensity drills that involve starting and stopping, agility and acceleration.

Attendance at both sessions will provide players with a solid conditioning base to start their hockey season.
TWO WAYS TO REGISTER:
1. NEW! Register online: HOCKEY CANADA ONLINE REGISTRATION
2. Download and print the 2018 CONDITIONING CAMP BROCHURE. Mail, or scan and email to registrar@hawksathletics.ca
About the instructor
Corey Chorneyko works at the St Edmund Hockey academy, is an assistant instructor for Millar power skating and has worked for a few different hockey schools such as the Jasper Summer hockey camp, TASZ hockey camp and the NAIT summer hockey camp.
NAIT Ooks (ACAC)
ACAC Men's Hockey Academic All Canadian (2017/2018)
ACAC Second All- Conference Team (2017/2018)
NAIT Ooks Captain (2017/2018)
ACAC Top Scholastic Achiever (2016/2017)
ACAC Second All- Conference Team (2016/2017)
NAIT Ooks Captain (2016/2017)
ACAC Champion (2015/2016)
Spruce Grove Saints (AJHL)
AJHL Champion (2013/2014)
AJHL (North) All- Star Team (2013/2014)
AJHL Playoff MVP (2013/2014)
Spruce Grove Saints Captain (2013/2014)
AJHL Champion (2010/2011)
AJHL (North) All- Rookie Team (2010/2011)